Play with clay is a simple idea- a workshop for children to learn basic skills in pottery and use them to make objects of your interest.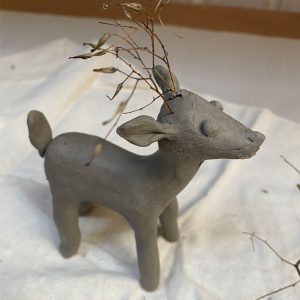 Set in the scenic country side outside Reading, my studio is located in a beautiful setting, which offers a calming and unique back drop for a hands on, in person pottery workshop.
I am working towards  bringing a sense of play and fun in our young one's minds. Today's generation is constantly bombarded with screen oriented play and social media generating an environment of instant gratification at one end, and creating a whole generation of children spending more time in isolation with their screens.
I truly believe that human mind needs to remain connected to hand making skills, to the use of their minds and body beyond day to day living.
Aimed towards encouraging children to handcrafting, the workshop will nudge them to use their creativity freely and express themselves with their own voice.
In my many years of working as a ceramic designer and tutor, I have found working with clay to be therapeutic and calming. It has helped me focus on the "Now" .
Children in my workshop will find it fun and easy going, while learning the make objects with basic clay building techniques like coiling, slab work, pinching etc.
Correct terms of pottery are encouraged during my class, because we are nurturing creative minds and they need to have a word association with the process. It is all important you see!
Midway through the workshop, we will take a break to assess, have some refreshments and enjoy the green countryside.
What to expect:
The pottery session is for 3 hours. Students will be shown pottery making skills after which they will make their own designs or objects. They will be guided through their session to a meaningful outcome.
Workshop Date: Nov 18th, 2023
The workshop includes:
Teaching hours.
Materials and tools will be provided.
A single firing is included free of cost in this workshop.
Light refreshments will be provided.
Please let me know of any allergies for your child.
Age group- 10-16 years.
Timings: 10am-1pm
What to bring to the workshop:
Nails to be short
Get an old shirt, Tshirt or an apron to wear.
A water bottle.
Wear comfortable shoes.
No of spaces- 4
Cancellation Policy:
Full refund will be offered on bookings cancelled a month before the date of workshop.
50% refund on cancellations 2 weeks before the date of workshop.
No refunds for cancellations a week before the date or no show on the day of the workshop.
Contact me for further details to discuss cancellation.